Laguna Keyes Amenities
Laguna Keyes Resort is classically coastal—from oceanfront balconies and wooden boardwalks that lead to the white, sandy beaches to a pool deck brimming with oceanfront recreation and condo interiors that remind your family that you're at the beach. The family-friendly atmosphere is as comfortable as it is accommodating. Welcome to Laguna Keyes Resort.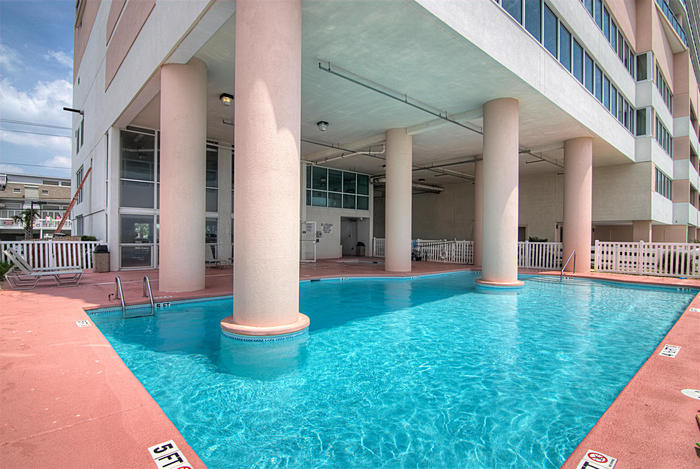 Parking
Built atop its own parking garage, Laguna Keyes Resort puts your family vehicle close by and out of any beachfront showers. Five levels of covered parking are a wonderful perk for guests of Laguna Keyes Resort. A trio of elevators makes it easy for guests to reach vacation condos on the top seven floors of this oceanfront building. So unloading the car of luggage and Myrtle Beach souvenirs is convenient.
Sleeping Accommodations
Sleep peacefully each night of your North Myrtle Beach vacation in a private bedroom with comfortable bedding. Laguna Keyes Resort has condominium rentals with one, two, three and four bedrooms. The larger vacation condominiums, those with two or more bedrooms, feature two or three baths, so there is plenty of room for your entire family and maybe even a couple friends when you vacation at a Laguna Keyes Resort condominium in North Myrtle Beach.
Television
Watch television in the living room or bring some movies and use the DVD player that appears in most of the condominiums at Laguna Keyes Resort. Enjoying a vacation in these rentals is just like being at home because you are surrounded by the same conveniences.
Kitchen
In the fully-equipped kitchens at Laguna Keyes Resort's condominiums, you can do more than make coffee. Thanks to the refrigerator, dishwasher, microwave and oven, you can prepare a gourmet dinner for your family while you embrace the North Myrtle Beach ambiance. To really indulge in your Laguna Keyes Resort vacation, eat your home-cooked meal on your private balcony. At the very least, make yourself a tropical cocktail and take it out to the oceanfront or ocean view balcony of your condominium rental.
Jacuzzi
Many of the vacation condominiums boast a Jacuzzi tub so you can fully relax in the comfort and privacy of your own private space. When your feet bear the brunt of shopping all day or your shoulder aches from the 18 holes of golf you played earlier, soak in a nice Jacuzzi tub in your condominium at Laguna Keyes Resort and in minutes you will feel rejuvenated and ready to see more of what North Myrtle Beach has in store for you.
Laundry
Further conveniences of your North Myrtle Beach vacation come with the washing machine and clothes dryer that are furnished for you in the condominiums at Laguna Keyes Resort. No hauling dirty laundry to a commercial Laundromat or avoiding washing clothes altogether because of the hassle it creates. When a washing machine and clothes dryer are as close as a closet in your condo, then such a task is less of a chore. This on-site amenity enables your family to have more vacation time together, doing something really fun.
Oceanfront Location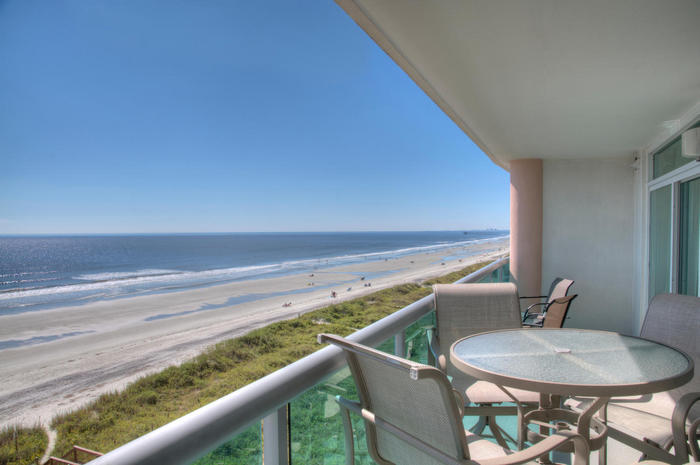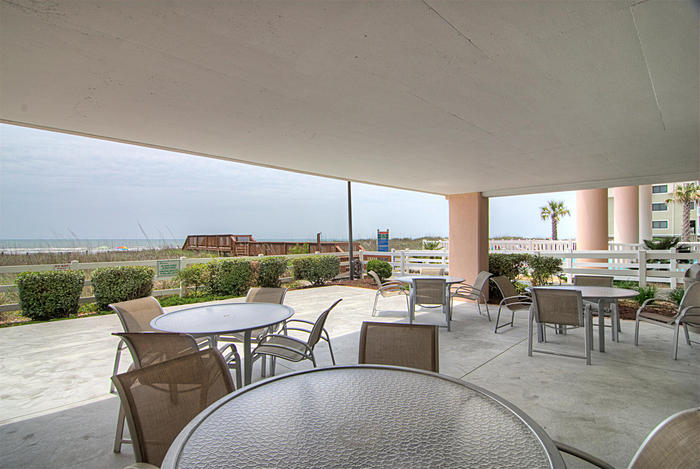 When you treat yourself to an oceanfront condominium at Laguna Keyes Resort, you can see picture-perfect views from your private balcony. Each balcony is furnished so you can relax outside and catch the first glimpse of sunshine as it peeks from behind the watery horizon. Don't miss this beautiful show during your North Myrtle Beach vacation at Laguna Keyes Resort.
Swimming Pools and Decks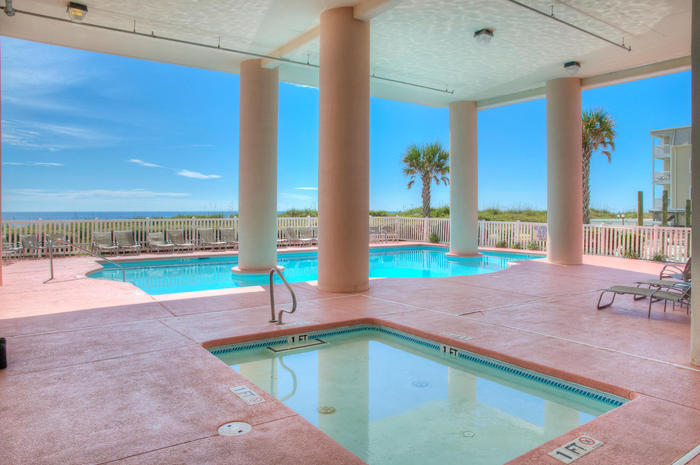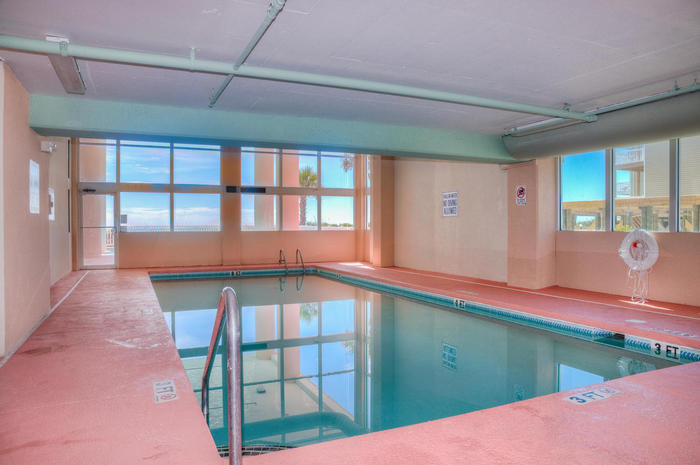 Laguna Keyes Resort boasts two pool decks. One is oceanfront and features a neighboring wooden deck for lounging about in the sun. The other pool deck is on the sixth floor of Laguna Keyes Resort and has a kiddie pool, lazy river, whirlpool and hot tub. Both have wonderful appeal and with two pool decks, your family can enjoy a change of scenery while still having fun with on-site water recreation.
Fitness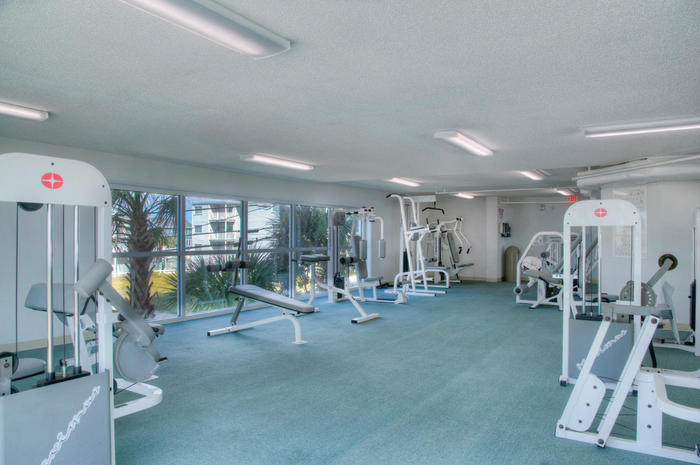 Laguna Keyes Resort invites you to maintain your workout regime while you are on vacation in North Myrtle Beach. Whether it is cardio on the beachfront or a round on the exercise equipment in the Laguna Keyes Resort fitness center, you can keep in tip-top shape during your stay. The Laguna Keyes Resort fitness room overlooks the oceanfront and the oceanfront swimming pool. It's a beautiful view that will make you forget the "no pain, no gain" mantra of your workout.
Beaches
The Atlantic Ocean is just beyond the swimming pool. Cross the Laguna Keyes Resort's private boardwalk to reach the white, sandy beaches then kick off your shoes and let your bare toes sink into soft sand. Laguna Keyes Resort is right on the beach so you don't have to drive to a beach access, find parking and haul everything you think you might need during your beach stay. Instead, it takes only moments to reach the Atlantic Ocean from your beautiful condominium when you vacation at Laguna Keyes Resort. Quickly return to your condominium rental whenever you need an icy, cold drink or want a snack that you are keeping in your refrigerator. Need a few moments out of the sun? Sit on your oceanfront balcony while you rest.
Property Location
Location: Oceanfront
Area: Cherry Grove
5700 North Ocean Blvd.
888-617-7404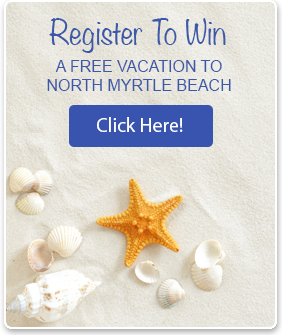 Disclaimer
Elliott Beach Rentals is not affiliated with onsite management or the HOA of this complex.